INTERVIEW | Umek
UMEK is personally responsible for kickstarting the electronic music scene in his home country by first organizing illegal raves and then becoming one of Slovenia's most wanted export products and number one music ambassador to the whole world. We sat down with him to catch up before his show at Spin San Diego on Friday, April 6th. Get tickets here.

UMEK
1. Standing at 2m tall do you have any entertaining stories where your height has affected your traveling or DJ'ing?

Umek: First of all, let me thank you for this original question, which are always welcome – nobody asked me about this in over 20 years of my career. Well yes, there are many stories related to my height, most of them are connected to lack of space between seats on the airplanes and too low DJ-booths. Result is always the same: pain in my back and/or legs and yes, that's the main reason for my posture. Flying business class is not a fluke but an essential for me, as I need a bit more space for legs. Especially at the beginning of my career my knees were totally black many times from being stuck between seats on airplanes. Imagine sitting in narrow space for hours bruising your kneecaps at hard iron mast, especially when turbulences come in play and everything starts shaking. When I fly economy class nowadays I try at least to arrange first row seats or the ones at the exits, where's a bit more leg space.

2. Speaking of traveling what are some essentials that you always bring on tour with you?

Umek: The usual stuff: wardrobe, toiletries, computers and equipment for my DJ set-up and my trusty tour manager Bizzy. One new piece of language I've started using on this particular tour is a backpack for my sneakers. As you probably know I'm a collector and sneaker aficionado, so I always bring couple of pairs on tour – a pair for a road, one or two for my performances and another one or two for socializing. Right now I have six pairs with me. I just got one great pair of KAWS as a present from my fiancée for our anniversary.
3. You are responsible for kick starting the Electronic music scene in Slovenia. How is it that you ignited that fire in the first place?

Umek: There were some pioneers before me, but when I got involved and some others after me, we took the scene onto another level and gradually into mainstream. When I started getting into then emerging new electronic music, the scene in Slovenia was literarily non-existing and we've had to build everything from the scratch: there were no proper record shops in Slovenia at the time, so we had to drive 500 km to Vienna or Munich by shopping bus to buy couple of pieces of vinyl each time; there were no party infrastructure, so we had to make our own raves and learn everything about event management on our own. We had no idea how and with what machines this music has been made, but we improvised a lot and learned along, thus creating our own sound; and we had no media to support he scene, so we put together our own monthly, developed our own radio show and so on. Sure, I can not take all the credit for developing the scene, but my influence was really strong as I was involved in a lot of key projects that push the Slovenian and regional electronic scene on the Balkan's forward. I still the most successful artist from that region, so I still influence the taste of other local artists and the audience.

4. Has being from Slovenia influenced your production style in any way, if so how?

Umek: In the early 90s the community was really small: couple of bedrooms and one proper studio and off course we all knew each other. We were discussing music, exchanged information, shown each other what records we have bought or produced, exchanged that little equipment we've got, we produced music following similar work routine with the same hardware doing the same mistakes, so we sounded differently than most of the world and there was some similarity in our output, so that's how we've got labeled as producers of Slovenian Techno Sound which was then a globally known thing. With the globalization, worldwide spread Internet and free flow of information that got lost, so we don't sound that typically Slovenian anymore.
5. You are the boss of your own imprint 1605, can you give us an inside scoop on some of the upcoming releases on the label?
Umek: Sadly our team is very small and so involved in Viberate project right now, we've needed to do some rationalizations and had to cut or at least put on hold some of our projects. One of them is my label 1605, which is on hold right now, so I've started to release my music on other labels again, after concentrating my output exclusively on 1606 in the last couple of years. We've got some serious founding for Viberate (after initial seeding money we've gathered over 10 million UDS in just over five minutes), so that's our main focus right now and we're expected to show results according to business plan, but I expect to revive my label again, though I have no idea when that might happen.
6. Speaking of 1605, who is in charge of writing those brilliant press releases for each track?

Umek: That was actually my manager Vasja – who is also one of the main guys involved in Viberate.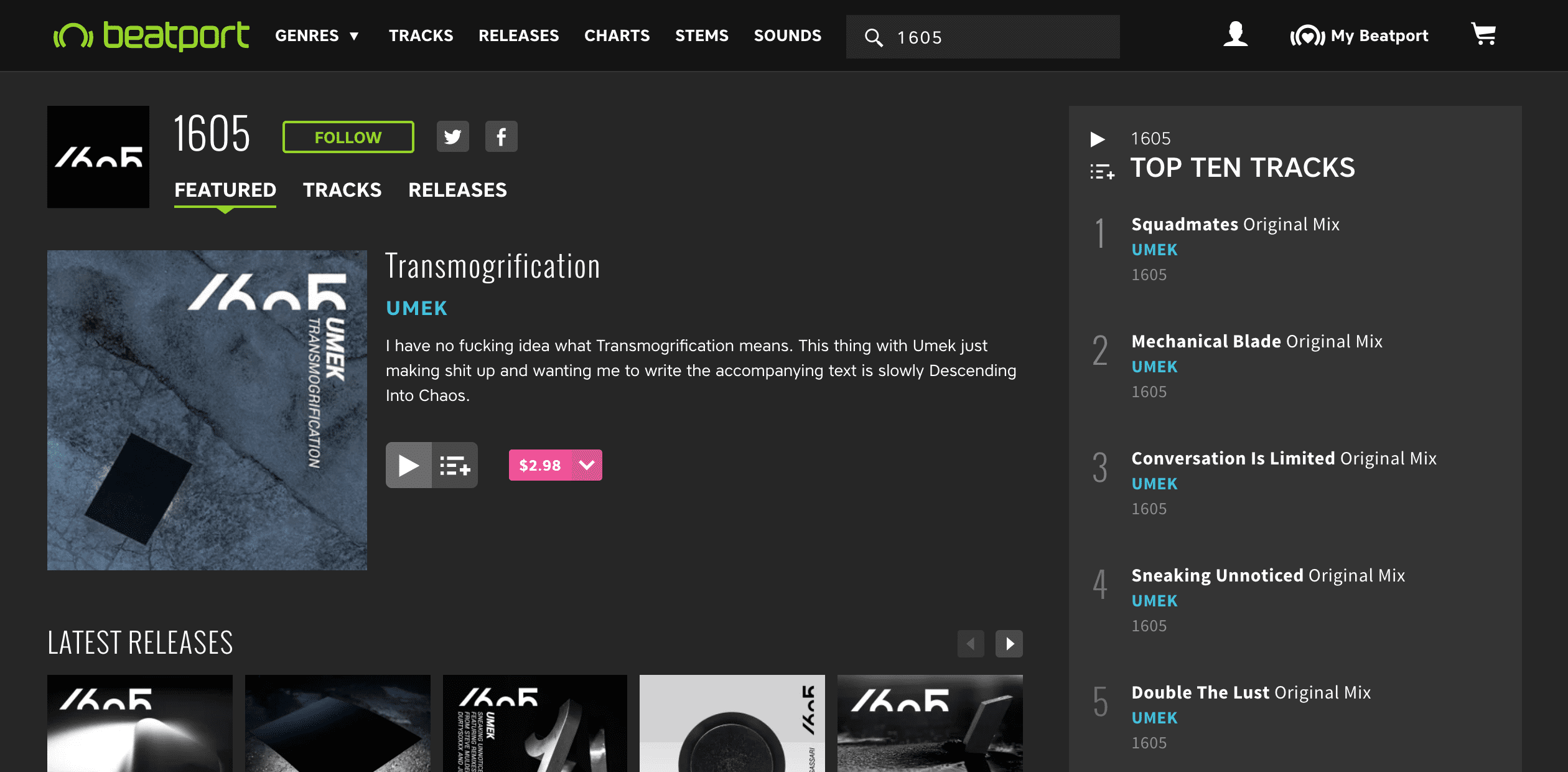 7. We always ask DJs to give us their top 3 tracks to play at the moment. Can you list yours?

Umek: No, not really. I was actually just buying some electro tunes before doing this interview but I don't want to turn on my computer again to check what I've bought. I don't want to list music as with me this changes not everyday, but couple of times in a day. Just come to my gig and watch when I'm grinning the most, turn on Shazam and I'm sure you'll get the artists and title of that track.

8. Your radio show "Behind The Iron Curtain" became a staple for many listeners in search of some of the newest names and tracks in the underground. With up to 328 episodes what was your reasoning behind stopping the show?
Umek: Well, that was another of before-mentioned rationalizations on account of my team being fully occupied by developing Viberate. It was a great ride, we've done good job exposing a lot of fresh talents from the east, many of which would never get a chance to present themselves to global audience and other players on the scene if it wasn't for us, so I'm sad I won't have a channel to do that to this extent in the future but I'll still play a lot of music produced by artists from behind the iron curtain in my sets, so pay attention if you'd like to discover some great producers that are not or at least not present in the western media as much as they would deserve to be.